A 990 Deadline is Approaching! Who Should Be Prepared?
The next 990 filing deadline is February 15th, 2023! Get ready for the deadline with Tax 990!

|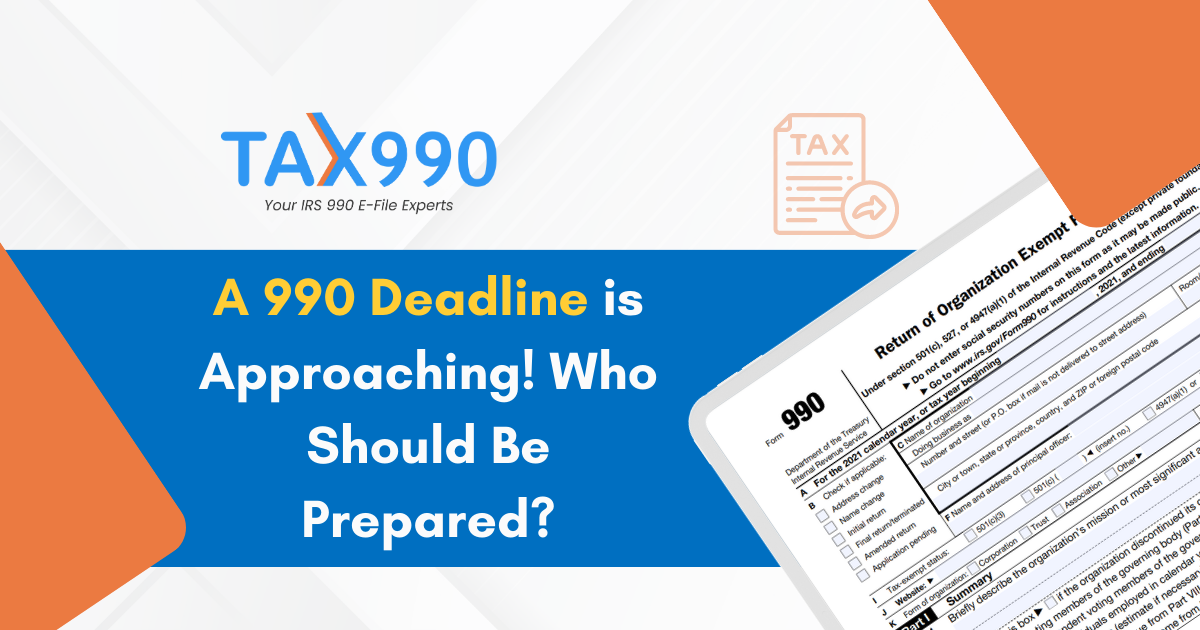 The first month of 2023 is about to end, and February is right around the corner. As a nonprofit, it's good to be aware of tax filing deadlines before February comes.
The next 990 deadline is February 15th, 2023. Keep reading to learn about your filing requirements and how to prepare.
Who should file 990 by February 15th?
The two categories of organizations that are required to file their 990 returns by the 15th of this month include:
Organizations with tax years running from

October to September

.

Organizations that originally had a

990 filing deadline

on

August 15th

last year but filed an extension

Form 8868

. 
So, if your organization falls under any of these categories, it's time to get ready for this deadline!
Which form should I file?
You may be aware that there are different variants of 990 forms, but do you know which form is right for your organization? Here is a quick guide.
Are there penalties for missing the deadline?
Yes, the IRS will impose penalties for late or incorrect filings.
For late form 990s, a penalty of $20 per day will be imposed for smaller organizations and $110 per day for larger organizations. Form 990-N is not subject to financial penalties, but the IRS will send a reminder notice. 
If you fail to file a form for 3 consecutive years, your organization's tax-exempt status will be revoked. Learn More
Note: You can file Form 8868 and get a 6-month extension on your 990 forms. This can only be filed once per return, so if you've already obtained an extension, you must file by the extended deadline.
What information should I need to report?
You'll need to keep your organization's basic information and financial records handy while filing 990 forms. This includes:
Organization's name, address, and EIN

Financial information such as revenue, expenses, assets, and liabilities

Program service accomplishments

Other IRS filings and tax compliance requirements

Key personnel, governing body, and management details
Meet your 990 filing requirements with Tax990
Tax 990 makes meeting your deadline a breeze. We offer several time-saving features, and we'll send reminders of your deadline or incomplete forms to ensure you don't forget.
Tax990 automatically includes

990 Schedules

for free when required. You can also upload contributions and grant details in

bulk using our Excel template

so that you won't have to enter these details one by one.

We provide an

internal audit check

, which will check your completed return for any IRS instruction errors and alert you before you transmit it to the IRS.

If you forget to add some information or provide incorrect information, you have the option to

file an amended return

through Tax990 by filling out the form again with the correct information, then transmitting it to the IRS after your original form has been accepted. 

If your original form is rejected for any reason, you can

re-transmit

it through Tax990 for no additional charge.
Don't risk facing any 990 penalties though there is enough time for the deadline. 
Get started now at Tax990.com!