ExpressTaxExempt to Tax990 – 5 Questions You May Have About Our Rebrand
If you have any questions about our rebranding, read this blog!

|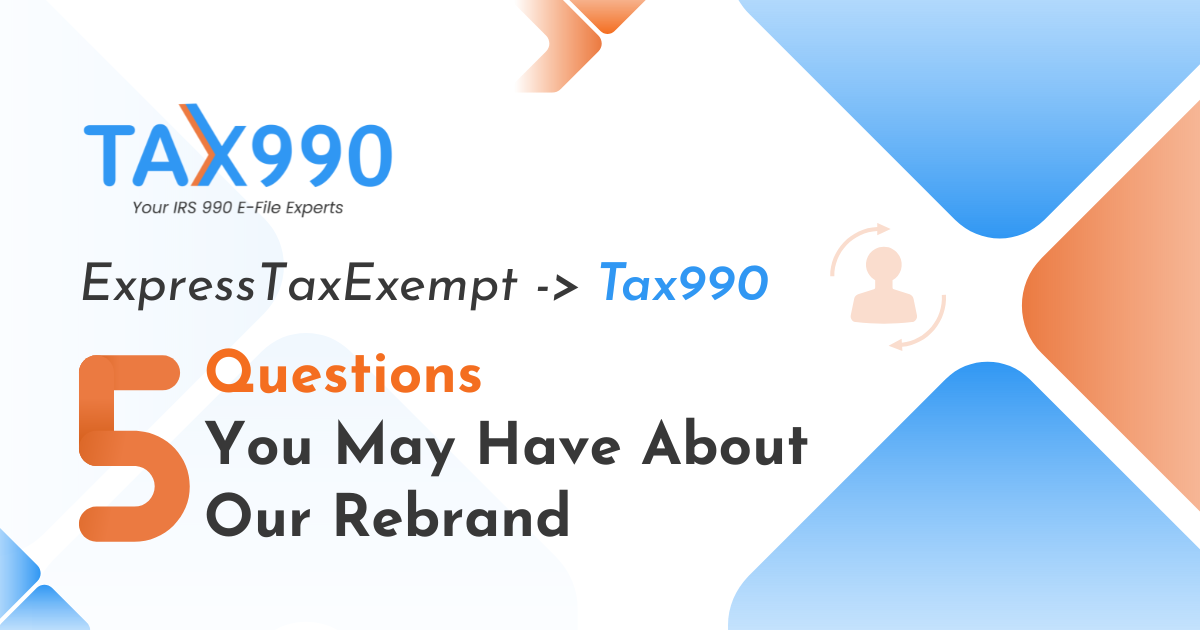 With just a few more weeks left in the year, we have officially started our rebrand as Tax 990. If you're familiar with ExpressTaxExempt, this change may have inspired a few questions about our application and services. Here are five common questions about our rebranding and their answers.
1. Why did ExpressTaxExempt Change to Tax 990?
The main reason for our rebranding is to improve brand recognition and make our name more easily recognizable among our clients and the nonprofit community.
Only the name and look have changed.  We are still the same e-filing provider offering helpful features to ease your nonprofit tax filings.
2. Do I need to create a new account with Tax990?
If you already have an account with ExpressTaxExempt, you can use the same login credentials to access Tax 990. There is no need to create another account.
All data from your ExpressTaxExempt account will transfer over to Tax 990. This includes the payments you made, incomplete returns, and prepaid credits you purchased.
If you started preparing a 990 form in ExpressTaxExempt and haven't completed it yet, you can just log in to your Tax 990 account and continue where you left off. If you already paid for the return in ExpressTaxExempt, you will not have to pay again.
3. Are all the features and services of ExpressTaxExempt still available in Tax990?
Yes! We still support the e-filing of Forms 990-N, 990-EZ, 990, 990-PF, 990-T, 8868 extensions, CA Form 199, 1120-POL, and 8038-CP with all the applicable Schedules as Tax 990.
We still offer the same great features, including Form-based and Interview-style preparation methods, an Internal audit system, Re-transmission of rejected returns, IRS Status updates, and Amendments. 
Additionally, our Dedicated support team is always happy to help with any issues via live chat, phone, and email.
4. Is the link sent for approval through ExpressTaxExempt still valid?
Yes! If you have shared a link with your organization members to get approval for your return, they can use the same URL to review and approve your forms. There is no need to send a new link.
When they click on the link, our system will automatically redirect them to Tax 990.
5. Are payment receipts received with the old name still valid?
Yes! All the payment receipts you have received with the ExpressTaxExempt logo and authorization will still be valid, and this change will not affect that in any manner.
If you have any other questions, you can find more FAQs at https://support.tax990.com/ or get in touch with our support team at (704) 839.2321 or [email protected].