How to Create a Free Account With Tax 990
Tax 990 is here to help you file and manage your returns with countless useful features. You can take advantage of these, but first, you have to create a free account! Learn how here.

|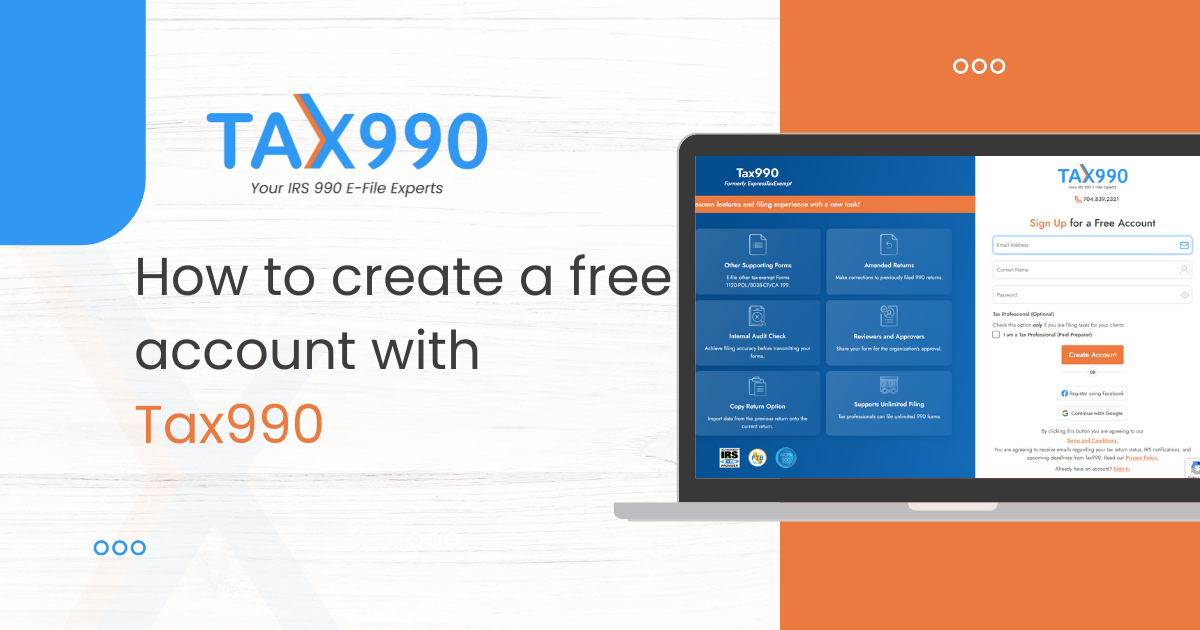 Are you a nonprofit looking for an easy way to e-file your 990 returns, Tax990 is here to help you! 
You can take advantage of countless included features to ease the process, but the first step is creating a free account. Keep reading for a guide to creating an account with us!
How to create a Tax990 account
There are a few simple steps to create an account with us. 
Go to Tax990's

home page

. You'll see an orange button at the top right corner reading "

Sign Up

." Click here.

This will take you to the

sign-up page

. You'll enter your email address and contact name, then choose a password.

This is where you will indicate if you are a tax professional or paid preparer. Indicating this will allow you to add your firm's name and details and manage multiple returns from different organizations at once.

Next, you'll need to enter the details of the business you'll be filing for. You'll have to indicate if you are

filing a 990

series form or a Form 8038-CP. Then, enter your EIN, and we'll pull up the information from our database.

After you enter your EIN and all of your information is saved in our system, you're ready to get started. You'll choose which form you are going to file as well as the tax year for which you are filing. Once you select these details, click the orange "Get Started" button.

Now, you have a choice to make. You can decide to file using our interview-based filing method, which will ask a series of questions and auto-populate your form with your answers. Your other option is our form-based method, which requires you to enter your data directly onto a digital version of a

990 form

.

Now, you're ready to get started! Enter your details onto the form. We provide step-by-step instructions that guide you through the filing process. You can also explore

Tax990.com

for other resources that will help you e-file your return. 
Why you should choose Tax 990
Choosing Tax 990 grants you access to multiple helpful resources to use when filing your return. We're a secure, cloud-based application that protects your information and previous returns for future access.
First, you can take advantage of our helpful blogs, YouTube videos, and knowledge base for information about filing. You can also get assistance from our live customer support team, available from Monday through Friday from 8:30 AM – 5:30 PM EST via email, phone, and live chat. 
We're prepared to handle all of your filing needs. If you require additional Schedules for your filing requirements, we'll automatically attach them for free based on the information you provide. You can also file supporting forms with us, including Form 8038-CP, 1120-POL, CA Form 199, or the extension Form 8868 for more time.
If your form is rejected for any reason, you can fix the problem and re-transmit with us for free. Additionally, you can file an amended return with us to correct or add any information to your original form. We'll provide you with real-time updates on the status of your form.
If you need assistance with managing your form or you require review and approval from board members, you can grant them access to your account. Our system will also perform an internal audit check for errors and notify you before you transmit to the IRS.
Tax 990 is here to help you along the way. Create a free account today to get started and take advantage of our program.