My 990 Return Got Rejected With Error Code: R0000-922-01. What Should I Do?
If your 990 return was rejected with error code R0000-922-01, don't panic! Read this blog to learn what to do.

|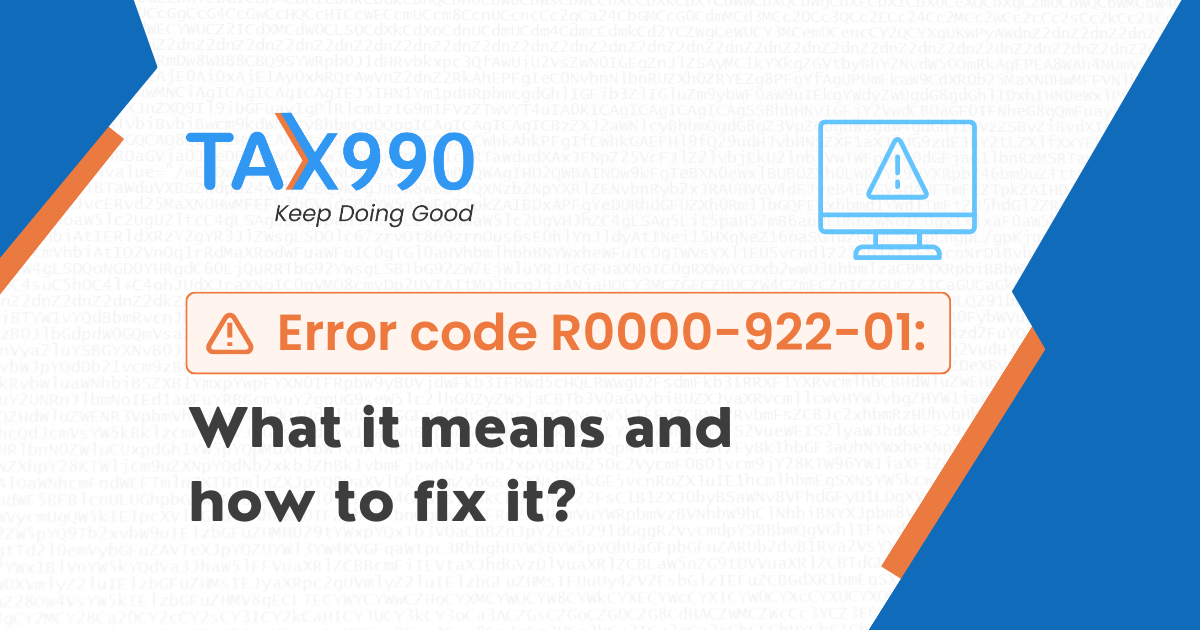 The IRS may reject the 990 returns for various reasons. Typically, the rejections are intimated with error codes and each code indicates a particular reason why the 990 return was rejected.
If your 990 return was rejected with the E-file Error Code: R0000-922-01, you may not know what this error means or how to address it, but don't worry! You've come to the right place.
What is Error Code R0000-922-01?
The rejection message that appears on your screen reads, "The business name, EIN, and the name control on the return filed didn't match the IRS's name control." What does this mean?
It means that the name control of your business and the EIN entered on your 990 return isn't matching with the ones in the IRS records. 
Note: Name control is a four-character identification code that is derived from the organization's name. 
So, if you're met with this rejection message, it is obvious that your form contains at least one of the following mistakes that cause a mismatch in the name control.
Incorrect EIN 

Mistyped organization name
Retransmit Rejected Returns for Free with Tax 990!
If your 990 returns filed with Tax990 were rejected for IRS errors, you can fix the errors and retransmit the return for free.
There are 5 simple steps to retransmit your rejected return. 
Log into your

Tax 990 account

Identify the rejected return from your

'Dashboard'

or your '

Forms History

' page.

Once you've identified your rejected return, click on the "

Rejected by the IRS

" button to find the list of identified errors. Then, click the "

Fix Me

" button against the error code

R0000-922-01

.

Based on the filing method you have chosen earlier, you'll be taken to a corresponding page where you can correct the EIN and/or organization name.

Review your form details and click the "

Transmit

" button to re-transmit your return to the IRS at no additional cost.
After you have re-transmitted the return, you'll receive updates about the status of your nonprofit tax return.
For further questions, we recommend contacting the IRS e-help desk toll-free at 1-866-255-0654.
File Accurate and Complete Forms with Tax 990
With Tax 990's EIN matching feature, you can choose to enter your EIN into our database and import all of your information instead of recording it yourself. This reduces the risk of encountering Error Code R0000-922-01.
Furthermore, with Tax 990, errors are no big deal. If there are any mistakes made while filling out your 990 return, you'll be notified by our internal audit check system. Then, you'll have the chance to correct any errors before you transmit the form to the IRS.
You can also find additional help on our website, which is full of guides, blogs, and videos about e-filing your 990 series form. Our dedicated customer support team is available to answer questions from Monday through Friday from 8:30 AM – 5:30 PM EST via email, live chat, and phone.
Simplify your filing experience today with Tax 990!