Preparing a Nonprofit Tax Return
Learn how to file a nonprofit tax return with this blog!

|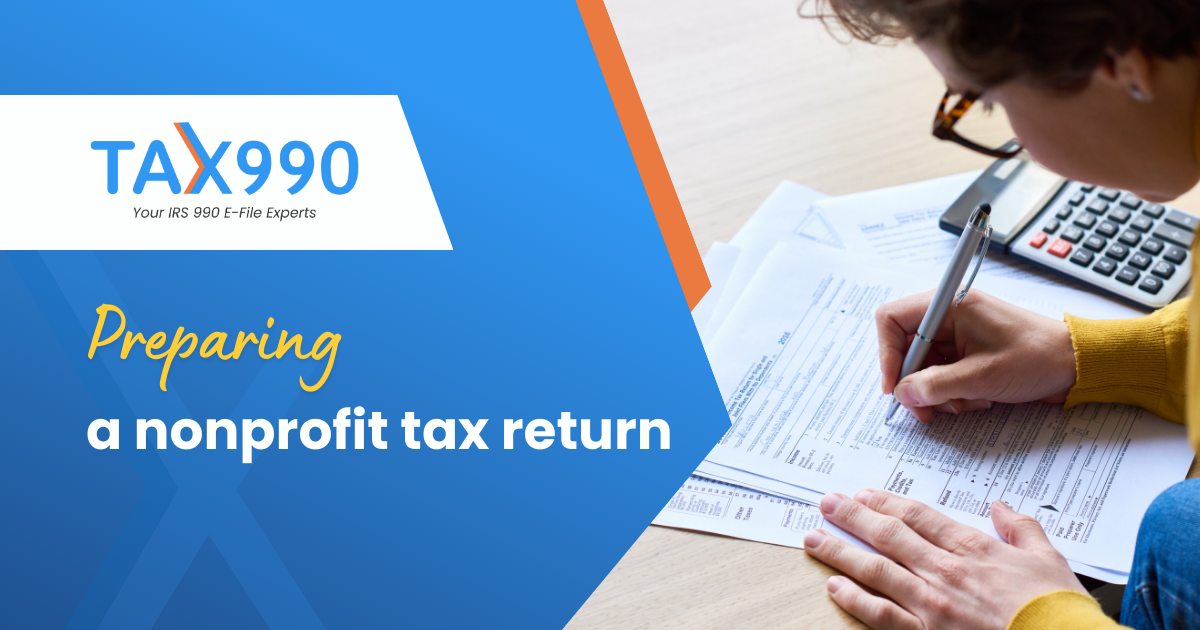 IRS Form 990 is an annual information return that tax-exempt and nonprofit organizations must file each year with the IRS to report information regarding their mission, programs, and financial statements for the tax year. 990 forms serve as a way for organizations to uphold their tax-exempt status. 
To help your organization prepare your nonprofit tax return quickly and easily, review this checklist to ensure you have all the necessary information to begin your return: 
  1. Choosing the right form to file
There are different variants of 990 forms available. Depending upon the gross receipts, assets, and the primary source of income of your organization, the 990 forms you require to file may vary.
  2. Knowing your deadline
Form 990 due date depends upon the accounting period that your organization follows.
For fiscal tax year organizations, the return must be filed by the

15th day of the 5th month

after an organization's accounting period ends. 

If an organization follows a calendar tax year, its deadline will be

May 15th

. 
If the 15th is a weekend or holiday, the due date will be the next weekday.
  3. Reporting all the required information
When filing a 990 series return, you will need to provide a lot of information about your organization. Considering this, it is extremely helpful to have certain information and documents handy while filing your return.
IRS Determination Letter: 
Your IRS determination letter will include important information regarding your organization's accounting period end date, annual filing requirements, and tax-exempt status.
Identification Information: 
When you begin filing your return, you will need to provide some basic information about your organization. This information will include your organization's name, EIN, address, and fiscal or calendar tax year information. You will also need to include information regarding the programs your organization offers, officer information, and your group exemption number. 
Financial Information
You will be asked to provide your organization's financial information when you file a 990 series form. Be ready to report all your revenue, expenses, and assets. Filing a nonprofit tax return provides a statement of your organization's financial position to the IRS and the public. 
Based on the information you report on your 990 forms, you may also be required to report additional information through 990 Schedules.
  4. Meeting Your IRS-Mandated E-filing Requirements
The Taxpayer First Act, enacted on July 1, 2019, mandates tax-exempt organizations to electronically file their 990 series returns. Starting from the 2019 Tax year, Form 990 can only be e-filed.

To make your e-filing process simpler and straightforward, all you need is an ideal e-file solution provider, and, Tax 990 can be your perfect choice!

Get Started with Tax 990!
Tax 990 is here to provide nonprofit and tax-exempt organizations with a streamlined e-filing experience. With the helpful features of Tax 990, nonprofits and tax-exempt organizations can meet their IRS Form 990 series deadlines quickly and easily.  
We offer two different filing methods such as

Form-based filing

and

Interview-style filing

, to make your nonprofit tax filing easier than ever

Tax 990 comprises an

Internal Audit Check

system to ensure the accuracy of your returns.

You never have to worry about getting your queries resolved, as our

Live Customer Support

team is available via live chat, phone, and email.

Learn more about our features
Start e-filing your return today with Tax 990! E-file Now