The December 15th 990 Deadline is Almost Here!
December 15th is approaching fast! File your 990 returns with Tax990 now!

|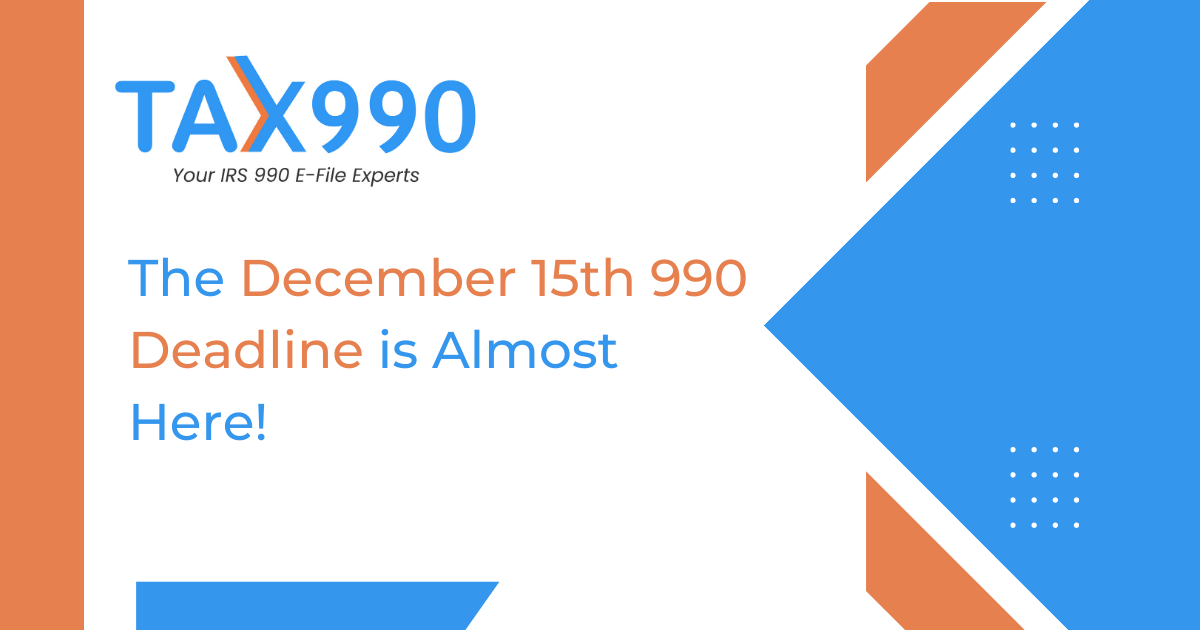 'Tis the season…to file your 990 series return.
The December 15th 990 series deadline is tomorrow. If this is your deadline, it's time to get started! Tax990 is here to make sure you e-file successfully and on time.
What Organizations Must File 990 in December?
For most 990 series returns, the deadline to file is the 15th day of the 5th month after the tax period ends. This means that the organizations that must file include
Those whose tax year ended on July 31, 2022.
Those whose original deadline was June 15th but received a 6-month extension by filing Form 8868.
Which 990 Form Should I File?
There is a variety of 990 series forms designated for specific organizations and purposes. The form you file will depend on your organization's size, function, and gross receipts.
Tax 990 supports the filing of Form 990, 990-N, 990-EZ, 990-PF, 990-T, CA Form 199, Form 8868, 1120-POL, and 8038-CP.
Can I request an extension for the 990 deadline?
If you need any extra time to gather your information and prepare your form, you can file Form 8868 to get a 6-month extension. This extension is automatic, and the IRS doesn't require any explanation for requesting more time. You must file this form by December 15th to receive an extension. Please note the following conditions while filing 8868.
You cannot request an extension for Form 990-N. 

If you have already filed for an extension this year, you cannot request another one.
Meet your deadline with Tax 990
Tax 990 makes it easy to file your 990 series returns by offering various features.
You can take advantage of our exclusive features such as:
Auto-inclusion of applicable

990 schedules

 based on the form data entered.

Bulk upload templates to import contributions and grants data quickly and securely.

Internal audit system for ensuring the accuracy of your returns
Copy data option to import data from prior year return to current return.

Extensive knowledge base and live customer

support

.
If your organization must file by December 15th, don't hesitate!