The January 990 Deadline is Here! File Your Return by Midnight!
The January 990 deadline has arrived! Make sure you file your returns by TONIGHT or face penalties!

|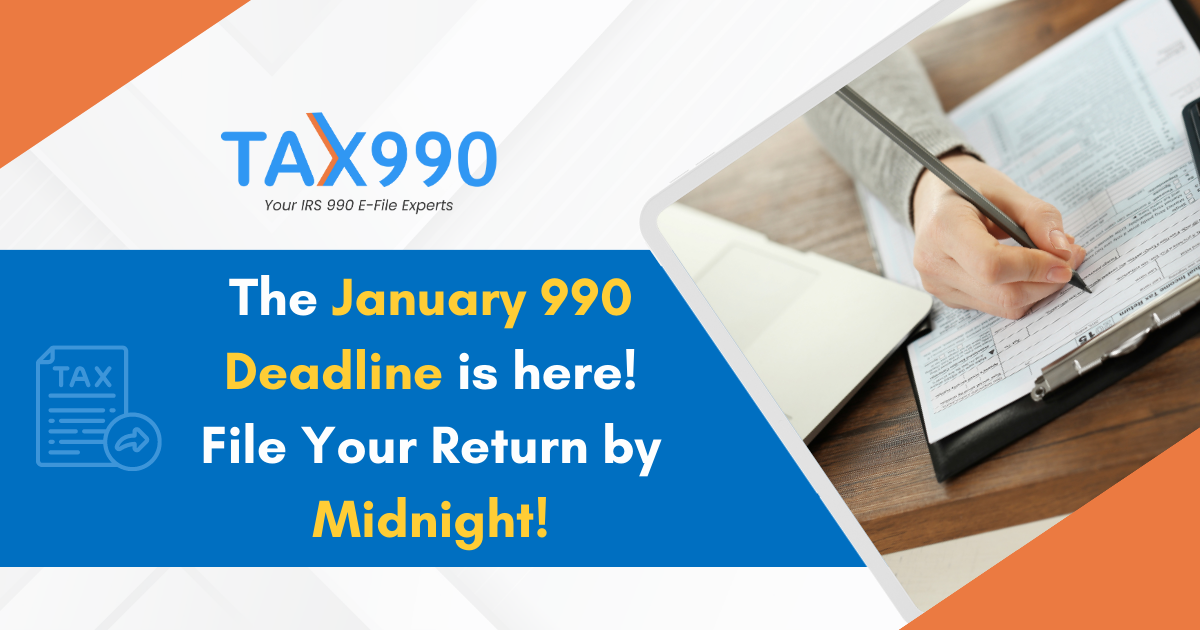 The January e-filing deadline is here! Be sure to file your 990 series forms before midnight tonight (January 17th). 
Who should file by tonight?
For most 990 forms, the deadline is the 15th day of the 5th month after the end of an organization's tax year. This means that the following organizations must file by tonight
Organizations whose tax year runs from

September to August

Organizations whose original

990 filing deadline

was

July 15th

but filed for a

6-month extension

with Form 8868
Choosing the right form
If you're unsure which form to file, you've come to the right place. The form you file will depend on the type of organization you are as well as the gross receipts your organization has at the end of your tax year.
Filing an extension
If you're feeling overwhelmed and can't file your form by your deadline, don't worry! You can file Form 8868 for an automatic 6-month extension on your deadline. You can only file this form once per year, so if you have filed an extension already this year, you can't file another one.
You must file Form 8868 by your original deadline in order to get an extension.
Note: You cannot request an extension for Form 990-N.
Meet your deadline with Tax990
Tax 990 is always ready to help you meet your deadline without any sort of hassles.
We offer exclusive features to ease your filing experience, such as
Free automatic inclusion of

990 Schedules

when required

An

internal audit system

that checks your form for IRS instruction errors and alerts you before you transmit your form to the IRS

The option to

copy data

from previous returns onto your current year if you have filed with us before

Bulk upload templates

that allow you to upload contributions and grants data all at the same time

A dedicated

customer support team

available via email, chat, or phone from

Monday to Friday 8:30 AM – 5:30 PM EST

A

knowledge base

full of FAQs and trending questions as well as informative blogs, YouTube videos, and e-filing instructions
If your deadline is January 17th, file now! Don't hesitate and risk facing penalties.
Get started now at Tax990.com!