Begin Your Journey with Tax 990!
|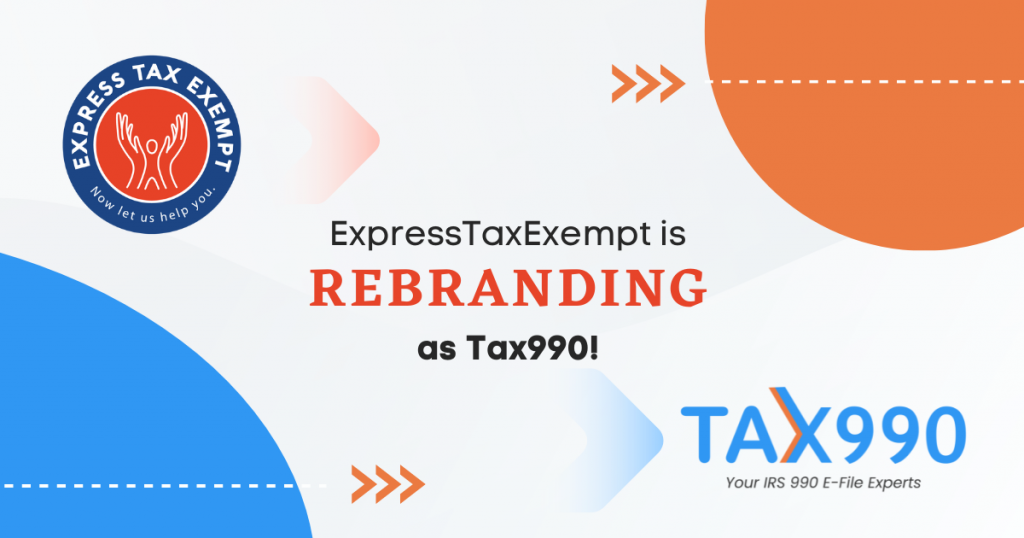 We're excited to announce that ExpressTaxExempt is rebranding to Tax990. 
After 7 years of serving nonprofits, we've rebranded to make our brand easily recognizable for our clients. Tax990 is a simpler, more streamlined name appropriate for our equally streamlined application. Don't worry! 
We're still the same great e-filing provider supporting Forms 990-N, 990-EZ, 990, 990-PF, 990-T, 8868, CA 199, 1120-POL, 8038-CP, and 990 Amendments. Our application will remain the same, just under a different name. You don't have to create a new account in Tax 990 if you already have one in ExpressTaxExempt. You can just use the same credentials to log in to your Tax 990 account.
Same Great Features
We still offer the same great features we offered as ExpressTaxExempt. Filing your forms will have the same process, and all our features will remain the same.
You can still take advantage of our direct form entry and interview-style filing methods for your

990 series

returns.

990 Schedules

will still be auto-generated where applicable based on your information. You can also still copy information from previous returns onto current returns to save some time.

Our internal audit check is always there to ensure the accuracy of your returns before transmitting them to the IRS.

The details about all the payments you made, the returns you filed, and the prepaid credits you purchased earlier will remain the same in

Tax 990

. 
Same Expert Team
We have the same great team ready to assist you with all of your filing needs. Email, call, or chat with us online. We can be reached at [email protected] or (704) 839-2321 from 8:30 AM – 5:30 PM EST, Monday through Friday. 
Our website may look slightly different, but it's still full of helpful tools and resources. Knowledge Base, blogs, videos, and webinars are there to help you throughout your filing process. We're excited about this change and can't wait to continue serving our clients' needs.
Take advantage of all of our wonderful features and support today!
Visit tax990.com.
544 total views, 1 views today