The September 15th Deadline is Here – Who Needs to File by Tomorrow?
|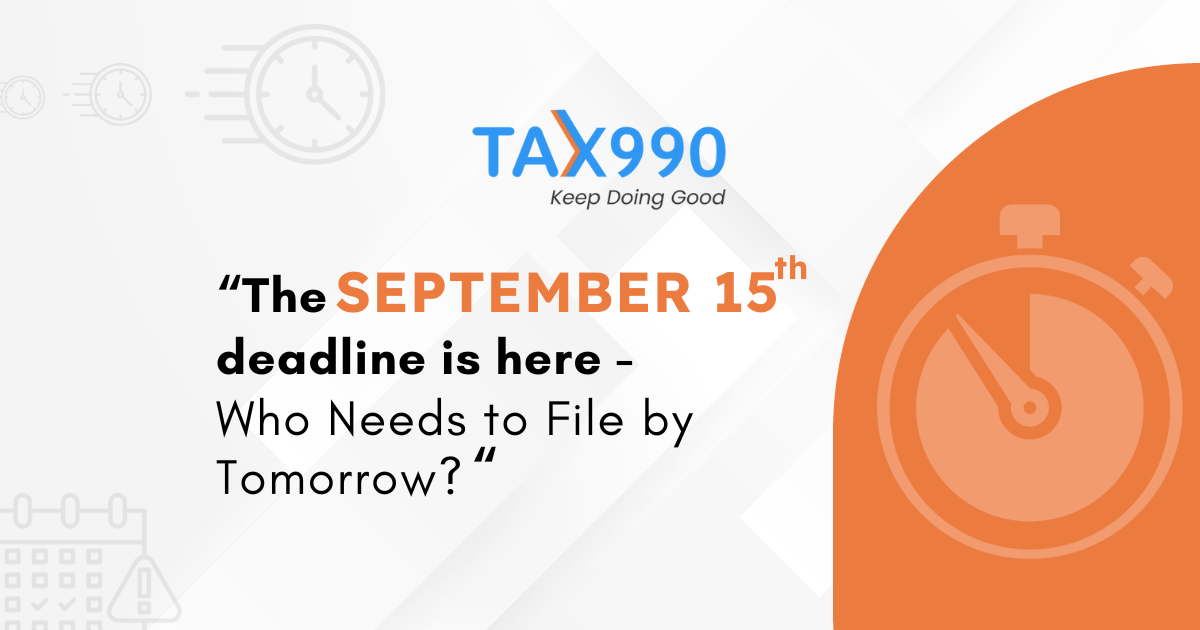 Attention all tax-exempt nonprofit organizations with fiscal years ending April 30th – your Form 990 deadline is tomorrow, September 15th! If you need to file your 990 return, don't worry–Tax990 is here to help your organization file on time, avoid penalties, and remain compliant with the IRS. 
Need a refresher on what's needed to file, or what steps to take? Check below for some last-minute tips for filing your 990 return seamlessly!
Which Organizations Should be Ready for Tomorrow's Deadline?
As mentioned above, September 15th's deadline applies to nonprofit organizations whose

accounting period starts May 1st and ends April 30th. 

Organizations that

filed Extension Form 8868 by March 15th

should also file their 990 Form by the September deadline. 
Prepared to File? Get Started Now!
If you've already gathered the necessary financial information needed to complete your return, then there's no need to wait! With the deadline being tomorrow, it's vital that you submit your return soon.
When filing with Tax990, you can share your 990 Form with board members and other important individuals within your organization prior to IRS transmission–meaning that all key members of your organization are on the same page when it comes time to sign off on your Form 990!
Choose the Right Form!
Despite being exempt from taxes, nonprofits and other tax-exempt organizations must still report certain financial information in order to stay compliant with the IRS. This is done with the annual filing of a 990 Series Form. Depending on a few factors (gross receipts/assets, namely), organizations will choose the appropriate form:
With Tax 990, schedules and attachment forms are automatically added based on the information reported on your 990 form–for free!
Need More Time? File an Extension!
If your organization needs extra time to file your 990 return, you can file Extension Form 8868 with Tax990. Organizations can file Form 8868 once per year to request an automatic 6-month extension to their Form 990 deadline. 
Since it's automatic, the IRS will accept it as long as you file it before the organization's deadline and complete the form correctly. 
Note: Organizations filing Form 990-N cannot file Form 8868 (Extension Form). 
Ready to get your Form 990 over and done with? Get started now!